Rabbit Insurance
We provide £2,000 of vet fee cover spread across all rabbits on our Essential policy. And £2,000 of vet fee cover per rabbit, on our Premier policy. We can insure rabbits and a wide range of other small mammals including; Chinchillas, Guinea pigs, Ferrets, Hamsters, Rats and many more. We paid 93% of pet insurance claims in 2021.
Click me!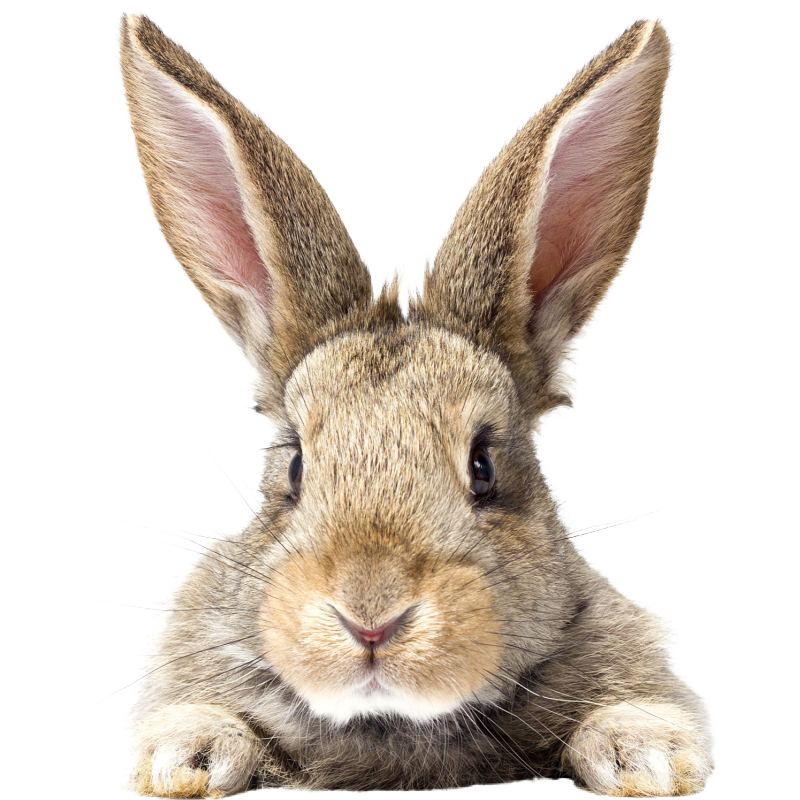 Rabbits make great pets and are often a particular favourite amongst families, becoming many children's first pet.
Owning them is often a joyous experience and you'll want to ensure you're providing everything you can for your pet rabbit and ensure that they're as fit and healthy as they can be. Most likely, you'll be registered at a vet to ensure that your rabbit receives the treatment they require if they become unwell.
Many of us know that unfortunately, vet bills can soon add up. That's why we offer rabbit pet insurance, to help you pay for the vet treatment they need if they become unwell.
This eases an already stressful situation, enabling you to focus on what's most important, caring for your pet.
How much does rabbit insurance cost?
Rabbit insurance costs around £153.60 per year or 10 monthly instalments of £15.36 a month based on a rabbit costing around £54.50. This would cover one rabbit for £2,000 of vet fee cover a year. Prices correct as of May 2022.
Insurance for older rabbits
We can insure rabbits up to 5 years of age, and cover can start from 8 weeks of age.
Can you insure rabbits who have recently been unwell?
Unfortunately, if your rabbit has been unwell and seen a vet in the previous 3 months for an accident or illness, we're unable to insure them.
However, once your rabbit has been treatment free for 3 months, providing they're fit and healthy, we can insure them.
Please be aware though that any pre-existing conditions cannot be covered in the first 12 months of insurance. Cover is subject to Policy Terms and Conditions.
Caring for your rabbit
Rabbits make wonderful pets and are a favourite amongst families in particular.
Things you'll want to take into consideration when caring for your rabbit include their diet, housing set up and bedding options.
You'll want to ensure that they have spacious accommodation as well as a safe and secure area in which they can exercise outside of their hutch at least once a day. In terms of diet and health, rabbits are herbivores and can enjoy a wide variety of fruit and vegetables as part of their diet.
Rabbits are unfortunately susceptible to a number of health conditions such as GI statis, a condition in which the passing of food though the GI tract slows down.
Signs of illness in rabbits to watch out for includes slow movement or hiding away, an increased thirst, a decreased appetite/not eating at all, changes to stools, changes to breathing or discharge from the eyes, nose or mouth.
If you suspect your rabbit may be ill, contact your vet.
Why buy rabbit insurance
Having rabbit insurance offers financial protection against unexpected vet bills. It helps you ensure your rabbit receives the care they need, when they need it.
We know it can be a stressful and upsetting time if your pet becomes ill and insurance with ExoticDirect can help alleviate some of this.
ExoticDirect offers a range of options, enabling you to select a policy which best suits your needs.
ExoticDirect policies are subject to Terms and Conditions. that you should read carefully when you buy your policy.
Why choose ExoticDirect?
We've won the Feefo Gold Trusted Service award 2019. And our customers have awarded us 4.4/5 stars on Feefo for customer experience. Check out our customer reviews on Feefo
Specialist exotic pet insurance providers since 1996
We can pay your vet directly
We're a friendly UK based team