Declining vulture species have new hope thanks to chicks born in Hampshire.
– Critically Endangered Vultures experienced significant nesting success-
The arrival of three vulture chicks at the Hawk Conservancy Trust, a specialist organisation for birds of prey, is a valiant victory for two of the most endangered bird species in the world. Approximately 70% of the vulture species are at risk of extinction due to their undesirable conservation status. The newly hatched chicks are especially significant as they indicate critical and important advances towards building a sustainable safety-net population. With rapidly declining populations throughout their natural environment in Africa, African White-backed and Hooded Vultures are classified as Critically Endangered. The number of Hooded Vultures has decreased by about 83% during the past 30 years, while White-backed Vultures have decreased by 90%.
The Trust's Bird Team, which is committed to international breeding programmes that strive to build sustainable and healthy populations of birds at zoological institutions, has put in a challenging and labor-intensive effort to ensure the well-being of all three chicks. Such populations must be maintained since they may represent a species' survival if it goes extinct in the wild. These three chicks will be essential for future conservation efforts and reintroduction to the wild, once the risks have been reduced. The causes of declining vulture numbers in the wild are diverse. In addition to the risks to life, such as poisoning by poachers, successful vulture breeding takes a long time; some species only breed once a year and lay just one egg. Even if the parents are successful in raising the chick and the weather, environment, and other circumstances cooperate, the young vulture will still have to overcome several obstacles before it can become an adult.
International breeding efforts operate in a complex environment and face several difficulties. The three young chicks' story is told in a movie created by The Hawk Conservancy Trust, which also highlights how difficult the transition from nesting to fledging can be. It is available to view on YouTube at: https://youtu.be/GCfYzvuA7NM
In addition to the video produced, we've also detailed the chick's stories below:
Firstly, the pair of African White-Backed Vultures.
1.From a challenging start to a foster family success,
The Hawk Conservancy Trust's Bird Team noticed the first egg being sat on by parents Etosha and Talavera. Due to the pair's past difficulties in having a successful hatching, the team was hesitant. Following careful deliberation the egg was then brought into the charity's National Bird of Prey HospitalTM for incubation. The egg was housed in a temperature- and humidity-controlled incubator at the hospital, where it was attentively watched for signs of growth until the first indications of hatching were noticed. This is a technically challenging technique since the egg's inner membrane contains several tiny blood vessels that, if harmed, could prevent the chick from fully hatching.
The chick was fed four times daily after hatching, kept warm in the incubator for 11 days, and had its weight and progress measured daily. Any member of the Bird Team who came into touch with the chick had to have their face and head covered the entire time to reduce the possibility of imprinting, which occurs when a young animal begins to believe a person or another animal is its parent after repeated exposure to them.
Sadly, as the chick was growing, Etosha and Talavera stopped sitting on their stand-in egg and gave up on the dream of being parents, so the chick could not be given back to them as intended. Another couple of African White-backed Vultures living at the Trust, Heshima and Ruaha, who have previously bred successfully but this year were unlucky in their attempts to produce a viable egg, were the ideal pair to serve as foster parents. The chick was carefully placed in an open "reveal" egg, which was then switched with the dummy egg in the nest to present it to the expectant couple.
The chick will soon be ready to leave the nest, and the Hawk Conservancy Trust's CCTV system will likely record the event. If any visitors are fortunate enough to be visiting the charity's 22-acre visitor site near Andover, Hampshire, at the appropriate moment, they may also catch it.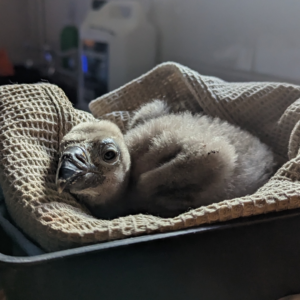 2. An interspecific adoption story,
In a touching inter-species adoption story a couple of Cinereous Vultures step up to parent the second little African White-backed Vulture, which is the second egg to hatch this year at the Hawk Conservancy Trust.
Despite having a strong bond, the Cinereous Vultures Thor and Aldara have tragically had a few unsuccessful attempts at breeding because of their risky habit of building two nests and then trying to move their egg between them. This obviously increases the risk of breaking the valuable egg, so when they laid their own egg this year, the Trust's Bird Team had to step in and help. They put the egg in a secure incubator and gave Dad Thor and Mum Aldara a dummy egg to care for and maintain their parental instinct until the chick could be returned to them after a successful hatch. Unfortunately, the egg was infertile, leaving Thor and Aldara without a youngster to raise. A uncommon notion in breeding programmes for birds of prey—to pair the egg from one species with parents of another—was born when the Bird Team was caring for a second African White-backed Vulture baby that could not be returned to its natural parents.
The African White-backed Vulture was fostered by birds rather than humans, which is the best start in life for any baby, and was put with Thor and Aldara after being safely incubated and gently born in the Trust's National Bird of Prey HospitalTM.
Thor and Aldara proved to be outstanding parents after careful observation, and they continued to rear the chick correctly and prepare it for its upcoming fledging with the crew standing by to assist at any time.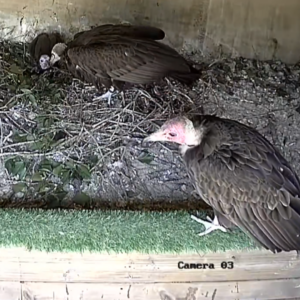 3. The Hooded Vulture – from a slow romance to the tightest of familial ties,
The majority of vultures are monogamous, which is unusual for animals. Many species of vultures bond for life rather than reproducing with a variety of partners over the course of their lifespan, which makes selecting the ideal partner and deciding to produce children a difficult process.
Hooded Vultures Vinnie and Nougat took their time getting to know one other after relocating to the Hawk Conservancy Trust together in 2018. It wasn't until this year that they felt close enough to lay an egg. The Trust's Bird Team had to do very little other than watch in awe on CCTV as the new chick was born in the family nest, high up in their outdoor space, because the pair's bond was so strong and their parenting so meticulous. It is anticipated that the chick will leave the nest very soon.
The Hawk Conservancy Trust crew is certainly thrilled with this year's accomplishments, but they won't be resting on their laurels. As the breeding pairs gain parenting experience and success, it gives rise to new hope that these pairs can be counted on to contribute future chicks to the breeding programme, which could then expand the breeding stock globally and bring us closer to the possibility of their release back into the wild when conditions are better.